A Timid Biotopia
Poetic Issues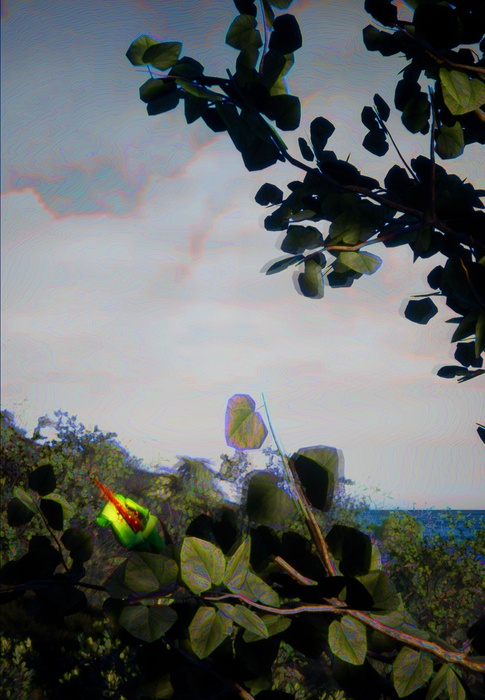 "The relationship to nature, the use of organic models in the composition until the extension of the concert music in the environment, has been a constant in my work for several years1 " announces Jean-Luc Hervé. Suffice to say, the theme of the exhibition "La fabrique du vivant" fits him like a glove. In Biotope, the reference to the living manifests itself through its occupation of the space via multiple sound sources and through the individual and collective behavior of each source. It also manifests itself through the system's "timid" personality. Intrigued by the sounds, visitors come closer to the loudspeakers to better hear them, trying to find out where they come from. But if there are too many visitors, or if their movements are too brusque, they disturb the "animals". The system reacts: the sound agent, like a living being, panics, sends out an alert to its neighbors, and falls silent. If the disturbance continues, the panic becomes greater and greater. The entire population flies away, screaming, quickly along the gallery's ceiling. Soon after this sonic "explosion", the music stops and the entire installation becomes quiet: the frightened "animals" are silent. The music resumes when the calm returns."
The entire gallery becomes a space in which one must be attentive and discreet to hear. The visitors must listen, their listening must become more attentive, and the must become more sensitive to the events surrounding them.
1. Anne Cauquelin, Jean-Luc Hervé, Les Jardins de l'écoute, éditions MF.
Image: Ginsberg Alexandra Daisy, Agapakis Christina, Sissel ToolasThe Sublime Hibiscus Landscape, 2018-2019
Resurrecting the Sublime: reconstruction numérique du spécimen disparu, Hibiscadelphus wilderianus, du versant sud du mont Haleakala, sur l'île de Maui, à Hawaï.
© Gray Herbarium of Harvard University © Christina Agapakis of Ginkgo Bioworks, Alexandra Daisy Ginsberg & Sissel Tolaas © Alexandra Daisy Ginsberg
Jean-Luc Hervé
Jean-Luc Hervé fait ses études au Conservatoire national supérieur de musique de Paris avec Gérard Grisey (premier prix de composition). Sa thèse de doctorat d&rs...